At the beginning of October, Olivier, president of Volodalen Solidaire, Julien, fundraiser, Arnaud and Sali, volunteers, came to visit the Foyer Augustine. A great opportunity to present them our construction project!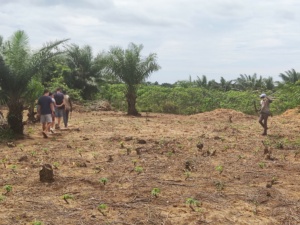 The land was bought as soon as our means allowed it. The opportunity was too good: located only a few kilometers from our current buildings and of ideal size, 1.36 ha. Even though we are still looking for financing for the construction, this area is not abandoned. It is now used as a vegetable garden. Cassava, chili and sweet potato plants are grown. Several workers are clearing the land, selecting which trees will remain and clearing large areas to accommodate the new structures.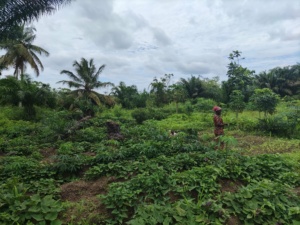 These structures are being supervised by the architectural firm ARCHONTAS-THEOS. Based in Porto-Novo, this office is made up of young collaborators ready to invest in innovative and ambitious projects! Once the money is collected, the construction can be very fast: only three months. Lucette Assikidana, president of Donatin, immediately liked their proposal.
The construction plans are very complete and include the home, the school, the college and the administrative offices. Sites are reserved for the garden, the vegetable garden and the sports field. Not only will we be able to better accommodate the children in new, healthy buildings adapted to their needs, but we will also have the capacity to accommodate more children in the school!